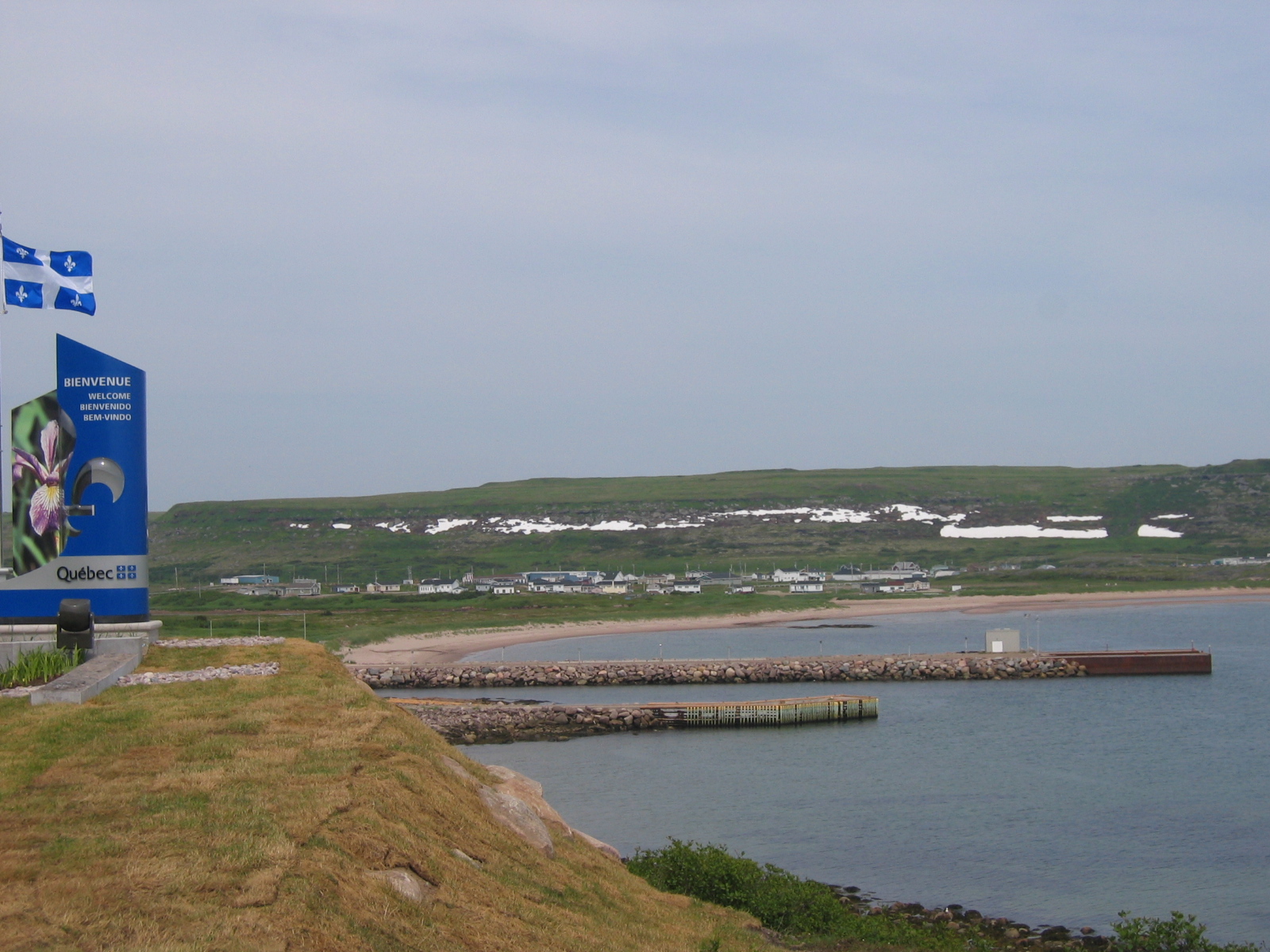 As we drove through Havre St. Pierre we noticed a frenzy of activity near the beach. As we slowly manouvered The Beast between the parked cars we remembered that it was "construction holidays" in Quebec and that there was most certainly some entertainment a brewing! After scouting out the carnival, the beer tent and the boat building competition near teh water, we decided to set up camp next door and investigate this "Festival des Families". Besides the fact that we were probably the only English-speaking people on the entire grounds, we had a great time just soaking up the sun and the exciting atmosphere of a summer festival.
The next day's drive to Sept-Iles was basically just road, trees and wild strawberry picking. We found a Walmart there, developed some pics, kept driving and ended up crashing at a "Halt Stop" for lack of a more convenient campground. In the morning, the third without a shower, we stopped at a nearby dam/nature area for some touristy pictures then motored on to Tadoussac - known for it's whale-watching and wild social scene. We found the youth hostel (Auberege Internationale), pitched our tent, and had the longest showers in the history of water-works. We explored the tourist-congested town on foot, returning to our hostel to find a party under-way. The place was filled with the oddest characters; a collage of Bohemian travelers, Cote-Nord locals and unusual vacationers. They filled the patio with wine, laughter, music, and that infectious Quebecoise attitude. Truly a spectator sport.
On July 21 we began our tour of the Saguenay region. Leaving Tadoussac we drove Rte. 172 through Parc du Saguenay, towards Chicoutimi. We made a brief stop at St-Rose-Du-Nord "one of Quebec's prettiest villages" to enjoy an afternoon hike and to check our e-mails. Now, as some of you may remember, the Saguenay area was devastated by major flooding in 1996, destroying many homes and businesses. The Petite Maison Blanche withstood the brute force of the rushing water and was made famous through media coverage, its photograph being printed in nearly every newspaper throughout our province and country. Although most of the damage has been repaired, the little white house still stands submerge in all that remains of the torrential waters, a tiny stream that runs through the town of Chicoutimi.
We rounded the east side of Lac Saint Jean, drove through Alma and then to Auberge Ile de Repos, a youth hostel occupying a little island just off the main road. That evening we met our friend Gino, a self-taught kayak specialist who has settled in the area to manage his own guiding company. Gino was hilariously intoxicated, had a new-found love for Halifax Herb, and whose accent only thickened as the night wore on!
On July 22, we set out to finish our tour of the area only to have our little world come crashing down. Around noon, near the tiny town of St. Felecien, the van had finally rounded its last corner. At 30 km/hr The Beast mustered one last attempt to regain control, but instead we found ourselves flicking on the four-way flashers and pulling off the road to call for help. The Beast was obviously sick, and needed some serious attention! Knowing it was most likely her transmission we called all the local garages looking for the best deal on used car parts. After some bargaining and rough translations, we called a tow truck and watched in disbelief as The Beast was hoisted onto the flat-bed truck. Defeated we joined the driver in the cab who reassured us that the bill had been taken care of by Canadian Tire (we have that "car-trouble" card), but that there were "other" ways of paying him if need be...ok, seriously bud, no time to joke, bein la!
At the garage, which was literally in the middle of some nowhere/nothing town, the two mechanics clucked with dissapproval at The Beast's underside. They showed us the problem (to which we simply nodded as if we understood the difference between this part and that) and ushered us into a loner car, promising to have The Beast ready by morning. As we putted off in a huge grey Buick, whose steering wheel smoked, we shrugged off our misfortune and headed to the mall for some comfort food and beverages.
Again we found ourselves in the middle of some construction holiday bonanza: the Dolbeau/Mistassinni "Festival Western Extreme" (said with a heavy North Shore accent). And so we joined the cowboy crowd for some steak and the drinking crowd for some "musique" western, and then quietly retired to another Halt Stop for some rest.
The next morning we anxiously returned to the garage. The Beast was as good as new...well as new as a 1989 Ford Areostar can be. And so we thanked our quirky mechanics and continued on our way, hoping their auto repair skills were legit!
Picking up where we left off, we circled Lac Saint Jean, cutting south through the province towards Quebec City. At the VIA Rail station we had hoped to find showers but instead spent nearly 2 hours on the pay phone trying to track down an old Psych prof from CEGEP who had recently moved to the city. In the end, after speaking with nearly half his family, it was concluded that Steve was visiting his father in Lennoxville. And so after contemplating our options, such as spending the night in an underground parking lot, we settled on dishing out some extra money for a Hostel and a bed. We headed for Iles D'Orleans, a summer getaway for many Quebec urbanites. Although you can practically see the city skyline from the tiny island, you still feel eons away driving past stretches of corn fields, beautiful old churches, and Victorian houses some 300 years old. Auberge le P'tit Bonheur was built in 1647, a gorgeous stone manor set off the road among the wild flowers and grazing pastures of local livestock. We spent the evening just lounging around, taking advantage of being in a house instead of a soggy tent or smelly van.
In the morning we drove into the city, parked The Beast and spent the day on a self-guided tour of Quebec's historic and culturally vibrant capital. We took in all the tourist sites and a few "off the beaten path" detours, and finally settled into some patio chairs for a tasty meal and a cold beer. That night we lucked out and found a free jazz concert in the nearby park.
Leaving the big city we headed to Sherbrooke to visit with Sara's Grampy . On the way we detoured to St. Antoine de Tilly, to check-in with a retired couple we had met on the Magdelaine Islands. We flipped through our photo albums, toured their horse ranch and met their children over a delicious French-toast brunch. We eventually continued south to the Eastern Townships. Flipping though our Lonely Planet guide, we found a mysterious town penciled in on one of the maps. It was called Dunham, near the Vermont border, a little out of the way but we were so curious as to what was there we decided to drive the extra distance...just for fun. Along the way the massive houses and stretches of manicured property made it obvious that it wasn't just the tourists who were attracted to this scenic region of Quebec. In Dunham, we found a quaint, charming little town that seemed a viable hot-spot for willing participants. **Who the heck is from Dunham?**
Although we got horribly lost on the way back to Lennoxville, we eventually found Steve at his father's house and were able to squeeze in a quick visit before heading to Grampy's, who welcomed us with open arms and some America's Funniest Home Videos to cap off the night. That next day we drove around town, found Bishops University and Dairy Queen. We met up with Grampy for supper and a tour of the towns incredibly artistic murals. Painted onto various aging buildings, the detailed murals depict what Lennoxville may have looked like decades ago, with bustling dirt roads, horse-drawn carriages, and a smaller, more personable population.
Before backtracking towards La Mauricie National Park, we had The Beasts' oil and coolant fluid changed, nearly completing her transformation into a safe and reliable vehicle...all she needed was a new muffler! Passing by Trois-Riveres, we wound our way through the massive and striking National park and settled into our campsite after some grocery shopping and lottery ticket purchasing (big money, big money!).
We spent the better part of the next day hiking an 18km trail up, around and over one of the main mountains in the park. I don't know what compelled us to do such a thing but as we limped home, crawling under our tarp and out of the rain, we cursed the idea of being a hiking enthusiast! My knees will never be the same!


The foggy beauty of the North Shore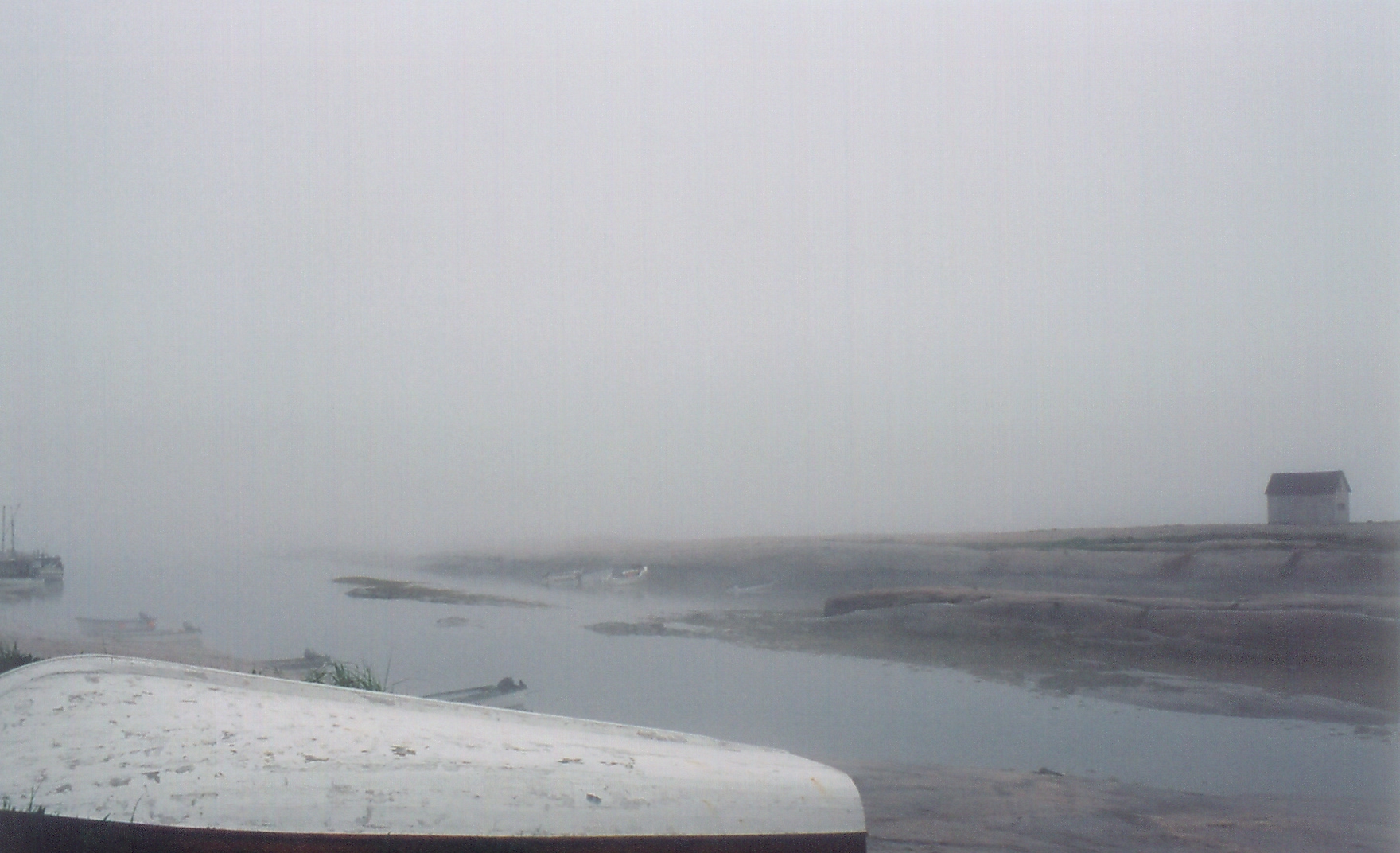 The Beast as Cargo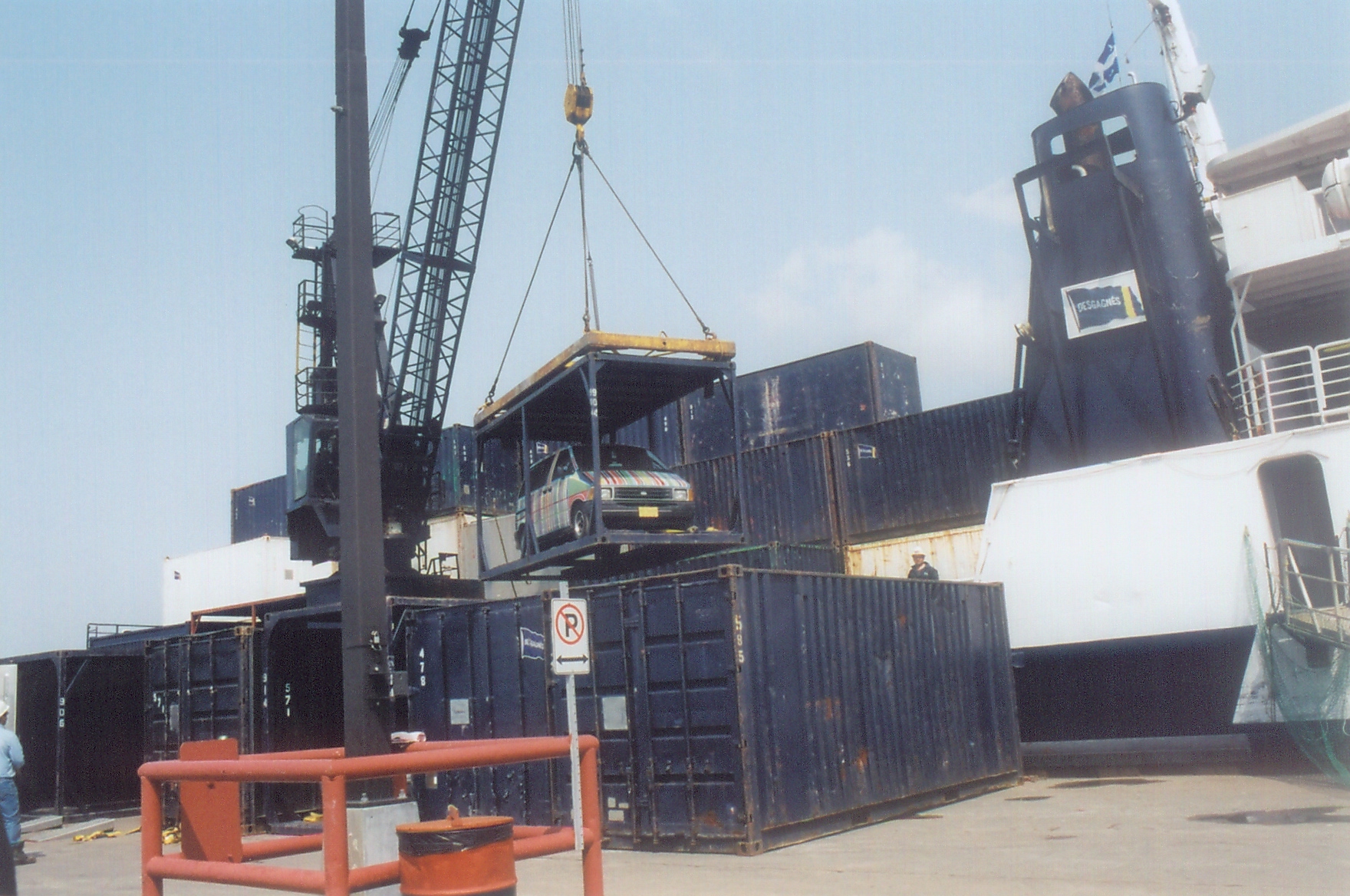 Our poor little Beast!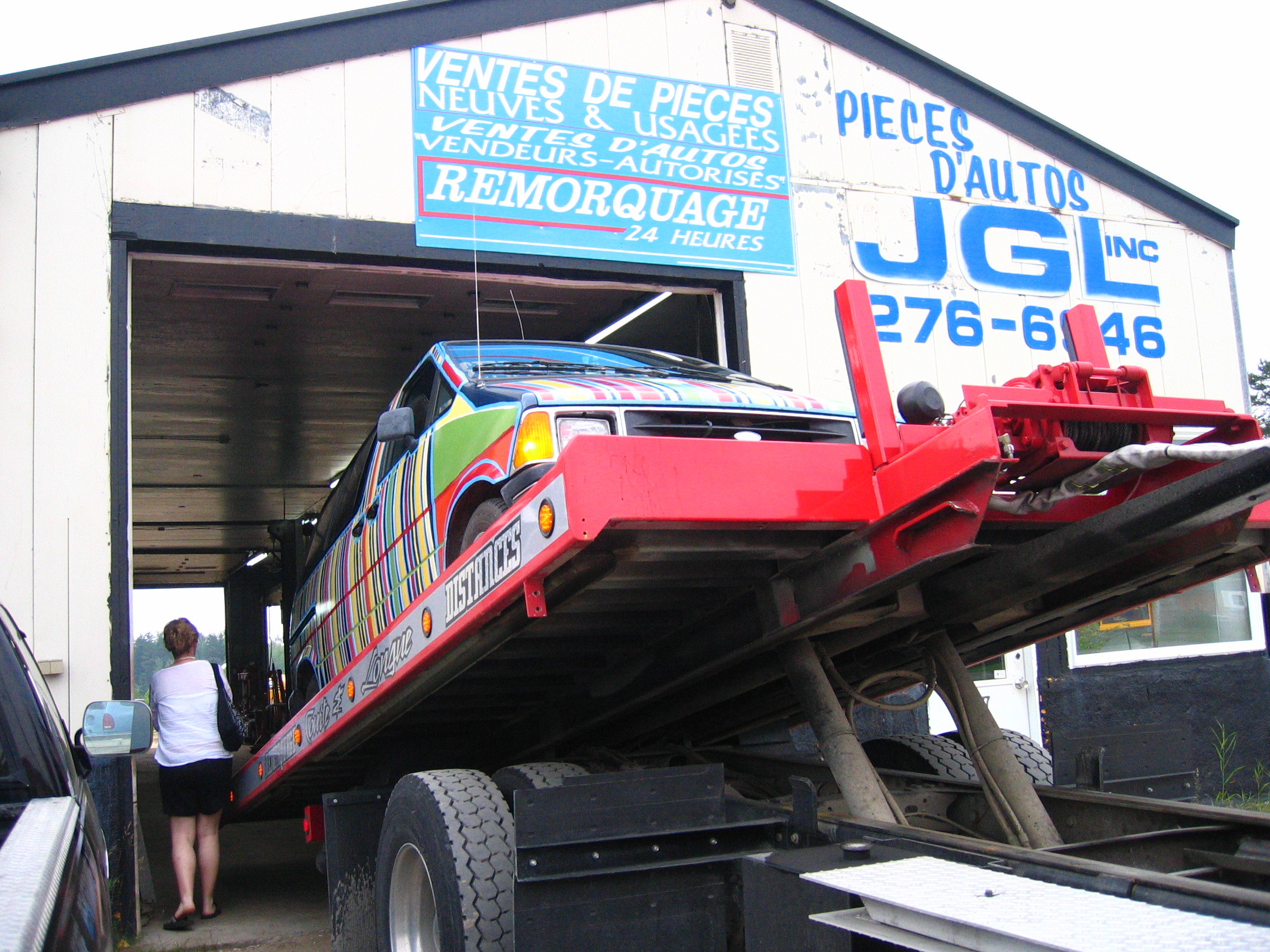 We really did go there!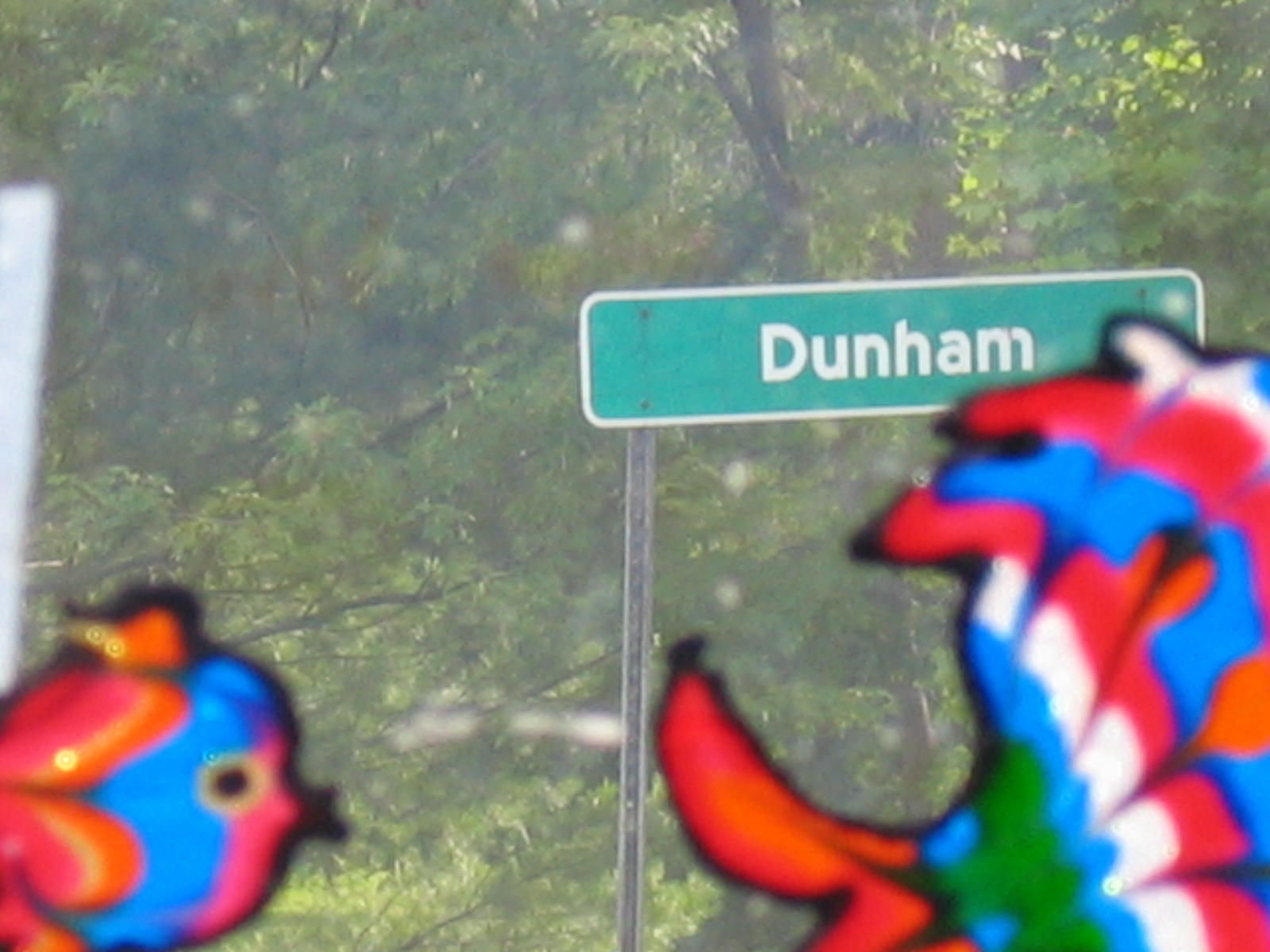 With Grampy in Lennoxville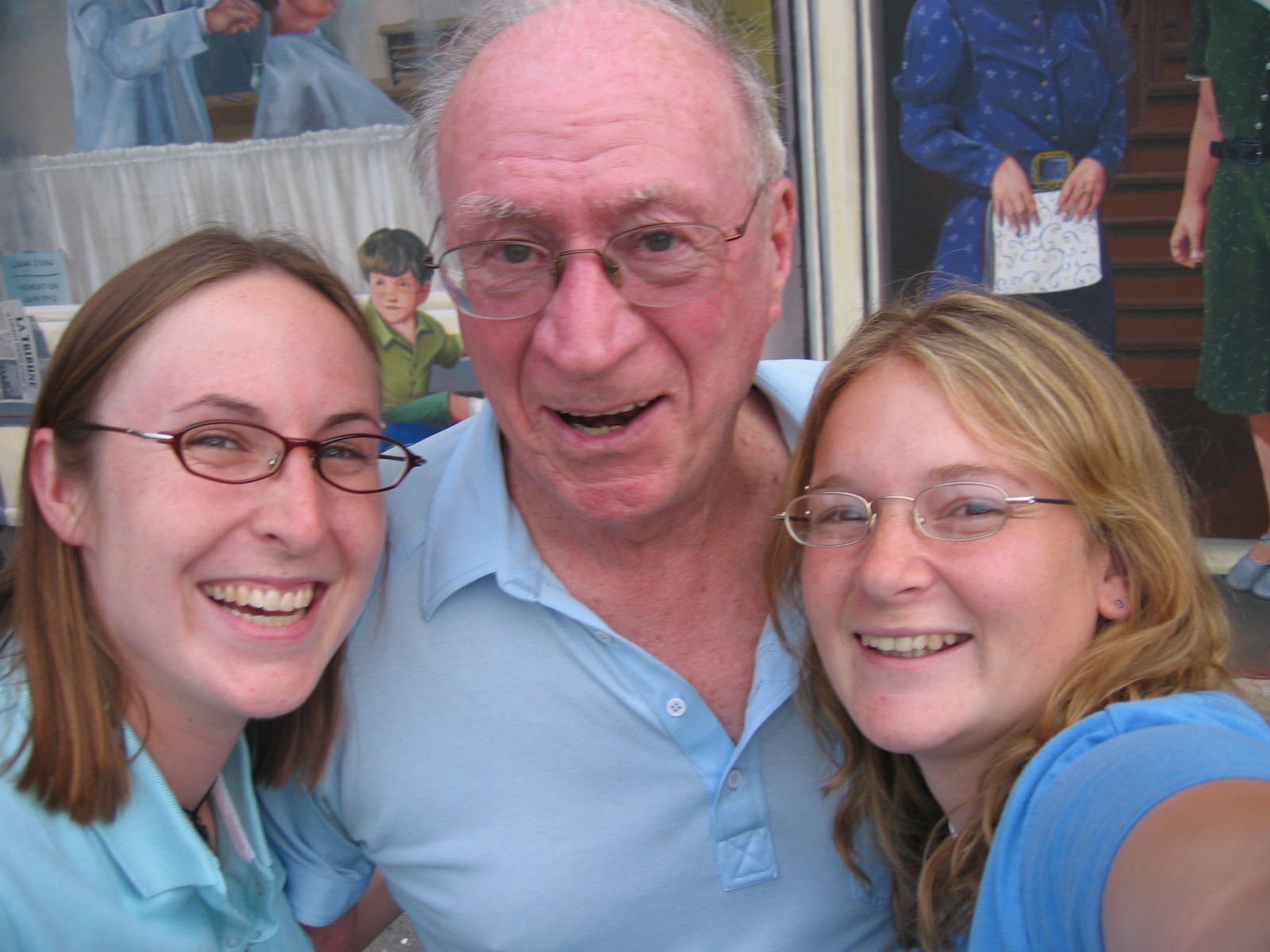 For more pics of Quebec here's what to do:
Click on the link below. Once you get to the Ontario page just hit the button at the top that says return to griffiths_sara's photos and that'll take you to all of Sara's albums. Enjoy and hope it works!